Remapping
CSC Motors offer a remapping service to improve the torque and performance of your vehicle
Rolling Road
We operate a Rolling Road at our garage in Glenrothes, Fife. Our 2 Dimsport Rolling Road (Dyno) can handle up to 750 BHP
Used Car Sales
CSC Motors sell a variety of used cars from £1,000 onwards at our garage in Glenrothes, Fife
SM Tuning Dealer
SM Tuning has tuned over 10,000 cars either directly or through his dealer network.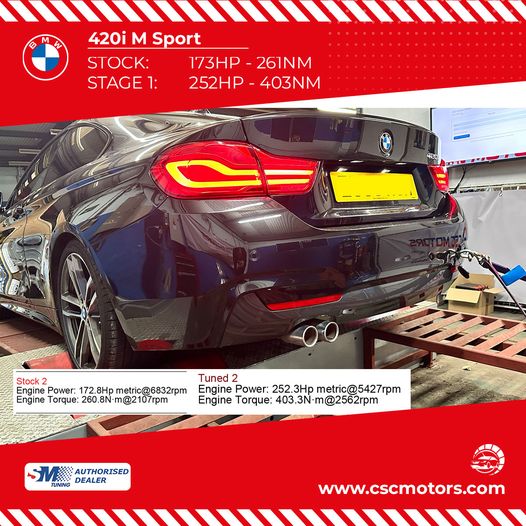 CSC Motors Car Services
CSC Motors are a Scottish based tuning company operating in the Fife area. Tuning isn't just a job to us, it's a passion. Our team has over 40 years of experience in the motor trade and are all car enthusiasts. All this means you're in safe hands if you choose to have your car/van tuned by the team at CSC Motors.
Our remapping service is carried out in partnership with the highly experienced and knowledgeable team at SM Tuning. They have over decade of experiencing in tuning and have remapped over 10,000 vehicles.
In addition to working with one of the best in our industry and using the latest genuine tools such as Alientech and Autotuner, we are 1 of only 3 tuning companies in Fife who own and operate a rolling road. This allows you to upgrade your tuning experience by having power runs carried out before and after tuning to see the difference in the performance of your vehicle.
Find Out About Our Rolling Road
Find Out About Our Used Car Sales
CSC Motors Reviews
"I was in Glenrothes visiting family when I heard a noise and saw something ping off my van, it was the fan belt. I pulled over, retrieved the belt and, as fate would have it, realised this had all happened 100m away from CSC Motors. I sheepishly walked up to the garage with the fan belt in my hand. Colin and Justin could not have been more helpful, Justin quickly checked the van to confirm the problem then immediately got on the phone to source the right parts for repair. It was 16:45 and most of the suppliers said they wouldn't be able to deliver the parts until the next morning. I explained that I was only visiting for the day and was meant to be driving 80 miles home to the Highlands that night as I had work the next day. What happened next goes above and beyond customer service, Justin offered to drive to Dunfermline to collect the part we needed so that they could get it fixed and have me back on the road that night. And he did exactly that, he was back within 45 mins, Colin fitted the new fan belt and tensioner in a matter of minutes and then I was on my way. This should have been a really stressful situation and it would have been perfectly reasonable for Colin and Justin to tell me to come back the next morning. But the went out of their way to help me there and then and I am so grateful. Lovely, lovely guys, very professional and what a fantastic service. Thanks you again!"
Helene Alexander
View Power Gains with a CSC Motors Remap
CSC Motors Partners
To ensure we provide the best service, we have carefully selected the best partners in the tuning industry to provide safe and reliable remaps in Fife and East of Scotland. We only work with genuine and licensed tuning tools meaining we have the full support of the tool providers.








Tuning Services - Scotland
Stage 1 and Stage 2 Remaps
Custom Tuning
DSG / BMW Automatic Gearbox Remaps
Adblue/EGR/DPF Solutions
Rolling Road / Dyno Fife
Rolling Road Remaps
Dyno Diagnostics
Dyno Days
Power Runs
Used Car Sales
Used Cars from £1, 000
Quality Used Cars
Used Cars with Warranties
Trade-ins Accepted