About CSC Motors Centre
CSC Motors is a used car dealer and tuning company based in Fife. We were founded in 2021 by three car enthusiasts Colin, Scott and Craig. Our garage in based in central Glenrothes with close transport links and conveniently located near the town centre, Mcdonalds, Asda and Lidl.
The team at CSC Motors love cars and we want to offer high quality Remaps, Dyno Hire, Used Car Sales and Tuning to customers in Fife and Scotland!
About our Garage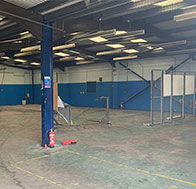 Our Service Centre in Glenrothes is a 6500 square feet complex with a secure yard to the rear of the building. Our garage features two ramps, 2 wheel drive rolling road, a tyre machine and advanced diagnostic equipment. We are currently renovating our customer waiting area. Until the renovation is complete, we ask that Customers leave their cars with our technicians. We are located only a short walk from B&M, Asda, Lidl, Morrisons, Greggs, Mcdonalds, Glenrothes Town Centre, and Glenrothes Town Park, so there is plenty to do in the area while your car is being tuned by our Professionals.